About Edmunds & Company   
| | | |
| --- | --- | --- |
| Restoring log homes is our business . . . our ONLY business. | | |
Thank you for your interest in our log home repair services. We are located in Northern Wisconsin and we specialize in solving all sorts of problems with log homes and log cabins.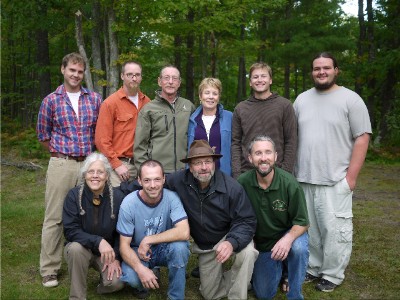 Take a look at our
photo album
to see some of our work.
Let us tell you a little bit about our company, which specializes in the restoration and preservation of log structures of all kinds– cabins, homes, boat houses, historic buildings, saunas, etc. Our company was born out of necessity in 1978, when the Edmunds family bought a log home in northern Wisconsin. Our immediate problem was that we could not find anyone, at that time, with any experience at restoring log cabins that could help us or give us advice. So,
we did the work ourselves. Soon, other log cabin owners were asking us about their buildings and now, over 30 years later, restoring log buildings
is our only business and we employ two full time crews.
Wondering if we work in your area? Click here to see Where We Work.
If your log home, cabin, or building needs to have rot repaired, the logs treated with a preservative, re-stained/re-sealed, or other general maintenance,
call us toll free at 877-378-4403 and let us know how we can help you restore your log building to its original beauty.
We continue to be a small, family-owned business, devoted to creative, quality restoration and repair of log homes, cabins, and buildings.
When you hire Edmunds & Company, you hire a company with decades of experience in working specifically with log buildings. Our crew also has many years of experience in all aspects of construction, which enables us to approach each new challenge with a rich mix of skills. Please contact us at 877-378-4403 if we can help you preserve your home or building's beauty and utility.
We have the equipment to replace any log up to 60' long!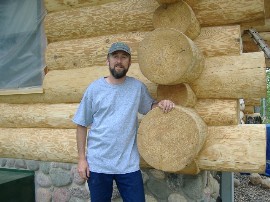 Matthew Edmunds is the second generation owner of Edmunds and Company.

We take pride in our work.
In the past three decades we have developed effective techniques, acquired the proper tools and trained a crew of craft persons. Today, we believe that we have restored more log structures than any other log restoration specialist in the country. We can confidently repair and restore almost any problem that may arise with a log building.
Edmunds & Company specializes in log home restoration, log cabin & building repair and restoration.
Typical problems include: rot in the logs, corners, or beams; weathered and discolored or black logs; cracks or gaps in the chink; peeling or faded stain or paint; and problems with beetles, bees, or other bugs. We are located in Northern Wisconsin. Most of our projects are in Wisconsin and Minnesota, but we will work anywhere in North America. We have done projects from Vermont to Arizona, and from Michigan to Florida. We will go wherever there is rot.
We are proud to have restored some of the most interesting log buildings in the region and beyond including:
The Riverview Combination Building, St. Croix State Park, Hinckley, MN
Historic log cabins at the North Rim of the Grand Canyon National Park, AZ
Captain Forbes House Museum, Milton, MA.
Wirtanen Pioneer Farms, Makinin, MN
JFK Memorial Log Airport Terminal, Ashland, W
The historic log picnic shelter at Lake Bemidji State Park, Bemidji, MN
The Stone Quarry log cabin on Grand Island in the Hiawatha National Forest
The Forest History Center in Grand Rapids, MN and the Northwest Fur Post in Pine City, MN. (The Minnesota Historical Society owns both of these log buildings.)
Camp du Nord and Camp Widjiwagan in Ely, MN owned by the YMCA
County and city Historical Society log buildings
Over 600 individual log homes, cabins, guesthouses, boat houses, etc.
Our Crew

images/crew3a.jpg

Our Crew

images/crew1a.jpg

Our Crew

images/crew7.jpg

images/crew-blasters.jpg

Our mighty blasters

Our Crew

images/crew6.jpg

Our Crew

images/crew9.jpg

Our Crew

images/crew-fun.jpg

Having fun after work.

Our Crew

images/crew-fun3.jpg

Relaxing after a day of hard work.
Please call us at 877-378-4403 if we can help you preserve your home or building's beauty and utility.