Sand, Glass and Cob Blasting FAQ
Why do you use corncob, crushed glass and sand as your primary media in blasting log homes?
Essentially what we are doing when we blast is to toss something at the building at a given speed. One can toss it slower, toss more of it or less. Either way, what you "toss" and how hard you toss it is the key to how much work gets done. A "media"(given material) will do more work if it is heavier and more angular (more sides or sharps). A less angular media will do less removal. So... we try to dial in our choice of media to what we are trying to take off, and the wood we are taking it off of. We want to be aggressive enough to get off the stain and expose fresh new wood, but we don't want to be so aggressive that we damage the logs.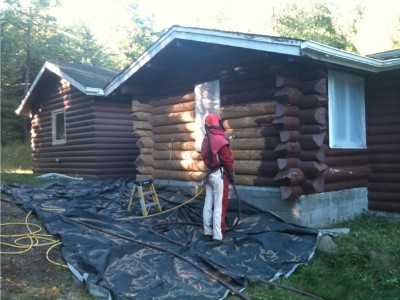 Blasting log home using recycled crushed glass.
In our many years of experience with blasting log homes, we have come to rely on corncob, crushed recycled glass and sand for our blasting media. They each have their benefits and we make the decision of what media to use based on several considerations. We use our experience and understanding of the process to make the decision about which type of media a particular job calls for.
Recycled glass has now begun to make its way into the market as a blast media. The advantages are that it is a recycled product, and it contains no free silica. These are both good things for worker safety and for our environment. The glass media is not "shards" of glass but rather, it is grains much like the sand. Here is a link on our site that includes a video of glass blasting on a project we did in Finland, MN. Click here.
Sand and corn cob still have there place in our arsenal of media we choose from when blasting a log home. Sand will always be the best for taking off thick paints and coatings because it is such a heavy media. We choose from at least six different grits and types of sand to achieve the best results possible. Corn cob is sometimes preferred because it won't etch glass or metal and is always great for working around windows and painted metal trim. We have used three different grits of corncob.
Why can't I use a power washer to prep my logs?
The fibers of the wood are damaged creating a "fuzz effect".
Power washing is a wet process, which relies on water as the "media" to remove the finish instead of sand or corncob. As water is applied to wood, it expands and more importantly - it softens the fibers of the wood. These soft fibers are then exposed to 1800 to 3000 psi of water. This process can cause the fibers to break length-wise and can result in what is referred to as the "fuzz effect"
(see photo to the right).  This basically looks like the log home or cabin has grown ½" long hairs.
Click here for more information on sand or cob blasting vs. power washing.  
Why can't I simply prepare the surface and reapply a stain on my logs?  
Notice the variegated color on the logs.
Most times, a log surface that has areas of faded or pealing stain (see photo on to the right) has two things that will be working against the new stain:
1) the surface of the logs is so deteriorated or is
no longer adhering to the wood that the new stain will simply not stick to the wood and 2) the application of the newly recoated stain will look variegated in appearance because on the bottoms of the logs the original stain remains and on the tops the stain is completely gone.



Contact us to inquire about having your log home or cabin sand or cob blasted.