This story is not a tale of my crew's lifestyle on the road, our eating and drinking habits, the hour we retire, or the company we keep. We represent Edmunds and Company, which holds high standards of behavior and besides, what happens on the road, stays on the road. And what stays on the road would hardly be worth talking about. No, I am talking about the wildlife we see in the course of a season. Generally speaking, log home owners are a rustic lot who like being close to nature. Log structures are often placed in settings of natural beauty sharing environments with abundant plants and animals.
The crew enjoys a variety of wildlife viewing in the course of a season, deer, bear, and the first loons arriving with their haunting call. The list could go on but when does an animal cease to be welcome and make that regrettable transition to varmint? Even to animal lovers, it is clear that when the animal invades the home, penetrating the structure, the welcome mat is withdrawn. Log structures, like any building, must be protected from pesky invasions of critters that want to settle there. Stinging and boring insects come to mind. The most common animals are red squirrels and flying squirrels, who can do great damage chewing holes in wood and even severing electric lines. Rare is the house that is not visited by mice and bats whose dung can be overwhelming.
But I want to tell you a story about a bird nest perched on a log crown on a house we were about to wash and stain. We often have to remove them, but this owner wanted us to preserve the nest and chicks living there. I didn't tell the new guy on the crew the owner's wishes and decided to play a slightly cruel joke on him. No, I didn't send him back to the truck to get the patented (and mythological) "board stretcher".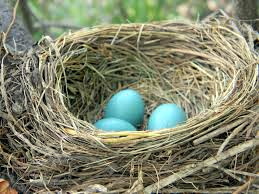 I said, "Micah, I have a problem. I have been the cause of too many sad endings for birds and the destruction of their nests. The burden on my soul has become too great. I need you to do me a favor and remove and destroy that nest, so that the mother does not return." "What about the little chicks?" he asked. "That's up to you, but a slow death would not be humane," I answered with feigned sadness. He quickly came up with alternatives, his eyes revealing a nervous discomfort with the idea. "Well," I said, "everyone knows once a human touches the nest, the mother will not return to the babies anyway," another rural tale.
Just when his discomfort reached an unbearable level, I pretended to capitulate to his idea of saving the nest. I suggested he get a large spatula we use for cleaning out chink buckets and slide it under the nest, which was perched on the top of a flat crown. He set the nest on a septic system cover. When our work was complete and the stain was close to dry a day later, he carefully returned the nest to its place.
As we continued our work someone noticed the mother robin feeding her chicks. "It's a miracle! You saved a family of birds," I smiled. Micah looked at me initially with a smug "I told you so" but then read my face and realized I had been pulling his leg. We all had a good laugh and the birds just continued singing.