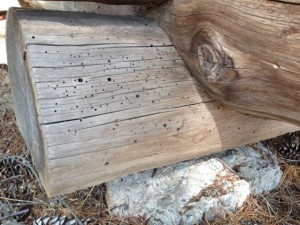 Insects in log home can be a big problem. Rot in log homes often attracts unwanted insects. In the midwest, we get carpenter ants and powderpost beetles. Take a walk around your log home and look for the telltale signs that you have a problem with insects.
Powderpost beetles leave a little pile of dust beneath the holes they bore. The holes they make are about the size of pencil lead.
Carpenter ants make holes that are bigger, about the size of a pencil. If you have these insects, it may be a sign that there is rot in the log. For more information on what to do, click here.
How do you know if you have rot? Click here.
Don't ignore insects in your logs. They are more than a nuisance. They may be a sign of rot.