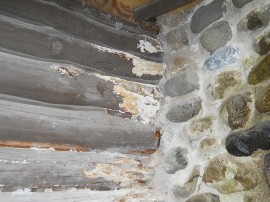 Log cabin repair work takes us all around Wisconsin and Minnesota. We have two crews so we can cover more territory. Since log cabins are so prevalent in these two states, quality log cabin repair services are in great demand.
This is a photo of a log cabin we worked on last month. In this case, an upper roof line on the cabin had contributed to rot around this window. We replaced the logs and the window. The lack of an adequate overhang, combined with lack of proper flashing, caused this rot on the cabin. Click here to see a PDF on "How to flash a brick or stone chimney".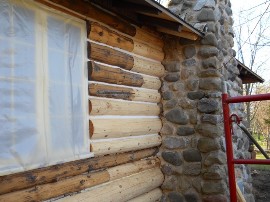 We have replaced many logs in many cabins over the years. It is important to remember that having an expert do your log cabin repairs is better insurance that the job will be done right – the first time!
Related links:
Log home repair
Rot on the bottom of posts
Improperly flashed roof often causes rot