Log cabin restoration is our specialty. While in the process of working on a log home near Hayward, WI this spring, we saw a number of things that are important for log home owners to remember when looking at the up keep of their log cabins.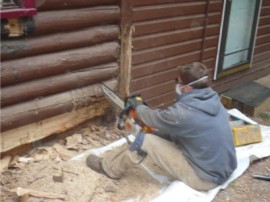 Two issues related to water management came up on this job. First off -gutters are needed on many log homes. If the logs get significant splash back from water dripping off the roof edge, then one needs to consider getting gutters.
If you find yourself in this situation, we recommend that you check into seamless gutters (see link below) as we find  that they offer the best functionality and overall cost effectiveness.
Another issue that came up on this job was the fact that the land up hill from the lake pitched groundwater back on the house. This allowed water to go up against the logs and was part of the reason why there was rot. Instead of needing routine maintenance, this homeowner's log cabin was in need of restoration.
Keeping water issues at bay is paramount to preventing rot. Click here to see this project we are referring to near Hayward, WI.
A number of our customers near Hayward, Spooner, and Minong have used Northland Seamless Gutters and we have found that they do good work. Check them out at: www.northlandseamless.net
Log cabin restoration services are all we do. Contact us or call 715-373-5744.
Related links: