Log home dry rot, and the associated repairs, can be avoided if you pay attention to these details. There are design features that can protect a log home from exposure to the elements such as large overhangs and plenty of "free board" between the ground and the first course of logs. There are also many things a log home owner can do to protect their logs and avoid problems with dry rot.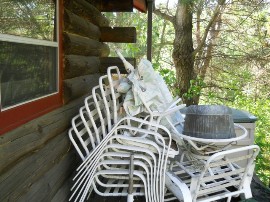 One of the main causes for dry rot is water splashing back onto the logs. In the photo here, the chairs are stacked so that water drips off the roof onto the chairs and then back onto the logs. A good rule of thumb is not to have objects under the drip edge of a roof.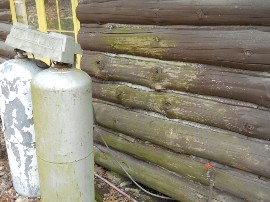 Here is another example of dry rot caused by splash back. In this situation, the gas tanks acted as a springboard for the water to land on the logs and over time, the exposure to moisture got the better of these logs.
The term "dry rot" is somewhat of a misnomer because the rot is actually caused by moisture. Here is a link to our website on "Why do Logs Rot". Click here to see how we fixed the logs on this home near Madison, WI.
Another common problem with log homes that can lead to dry rot is when there isn't sufficient "free board" to keep water from splashing off the ground and on to the lower logs.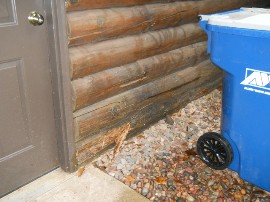 This photo shows the rot that can occur. Sometime this problem can be resolved by putting up gutters along the roof edge to redirect the water away from the log walls. For more information on how we replace rotten logs, click here.
In summary, keep objects away from your log walls. Don't do these things and you hopefully won't be faced with log home dry rot.


Related links:
Log rot
Cracks and checks in logs
Give your log home a checkup