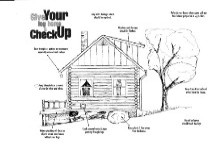 Log home maintenance is the cheapest insurance for the one place that brings your family together like nothing else. Maintaining your log home properly keeps your log home in the family for future generations. Don't let dry rot, failing or graying finishes, or unprotected logs destroy your log home treasure…  We strongly recommend that log home owners give their homes a "check up" at least once a year. Spring is a GREAT time to do it!  (Click here to enlarge image.)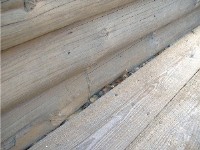 Here is a basic list of things to look for:
Keep trees trimmed and away from the logs.
Any leak you notice inside your house when it rains should be repaired.
Water splashing off decks will rot your logs, especially the bottom logs.
Improper flashing between decks and walls allows debris to collect, which holds moisture up against the logs and eventually can cause rot. Click here for a PDF on the proper way to flash a deck to a wall.
Keep plants at least two feet away from the logs and be sure to remove debris.
Watch for water splashing off objects stored near your house such as fuel tanks, wood piles, etc.
Eave troughs are necessary to keep logs dry – especially around roof valleys.

Windows and dormers should have flashing around them to prevent leaks.
No log should project beyond the edge of the roof. Any crown (corner) or purlin that extends beyond the drip line of the roof should be trimmed and refinished to help prevent rot.
Re-stain  your house when water will not bead up when sprayed on a log surface. How often you need to finish varies. Click here for more information on refinishing.
Caulk around vents and pipes passing through logs.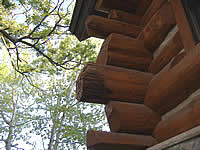 Preserve & Maintain Log Structures
Prepared by the Technical Committee of the Log Homes Council, Building Systems Councils, and the NAHB, this 14-page document is a must if you are contemplating designing, building, and living in a log structure. It compiles features and methods that will ensure the permanent quality of the log structure. File download:Preservation of Log Structures.pdf
Some good advice: Keep a record of who did what and when to your house, including: any blue prints; what type of preservative was used; the brand and color of stain, caulk, or chink.