Log home maintenance, done on a routine basis, is your best homeowners insurance against costly repairs. Check this out:
1. Keep the finish on the exterior logs in good shape. This means checking it every year on every side of your house to make sure when you wet the logs, water will still bead up and the finish is not fading or graying.
2. Make sure the caulking or chinking between your logs is in good shape… no cracks or splits in it.
3. Make sure the decks on the home are flashed correctly and are not allowing moisture to be held up against the logs.
4. Caulk up-facing checks in your logs if they are ¼" wider or more or are in vulnerable places on your home, i.e. just above a deck surface or on a high gable wall.
5. Keep gutters on your home functioning properly, i.e. not full of leaves or debris and not leaking. This will also help to keep the logs dry. Splash back from decks is the #1 cause of log rot.
6. Clean the exterior logs on your building once a year. Dust and pollen promote the start of decay.
7. Keep deck furniture, grills, wood stacks, and other items away from the logs around the home. They can hold moisture against the logs, which can cause rot.
8. Make sure every log on the home is inside the "drip line" of the roof. In other words, makes sure water does not drip off the roof onto the logs. Logs exposed completely to the weather WILL rot… it  is only a matter of time. Consider installing gutters where water comes off of the roof and lands on a deck. Again, splash back from decks is the #1 cause of log rot.
9. Flashing around chimneys should be inspected every year for signs of leaking. This is a place where rot can take over very quickly.
10. Keep records of what has been done to your logs. This will help when  it comes time to refinish or when trying to explore causes of problems with the logs down the road.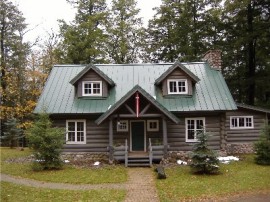 These are the most important things you can do for good log home maintenance and to keep your log home in good shape. Being an astute log homeowner is very important to protecting your investment.
Seeing little things that need attention day-to-day or year-to-year will be the difference between minor fixes and major repairs.
RELATED LINKS AND TIPS ON LOG HOME MAINTENANCE: