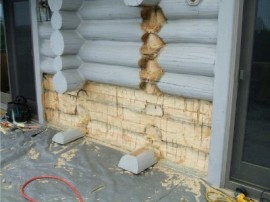 Log home restoration means many things but one thing it can often mean is replacing rotten logs. Does that mean replacing the entire log? No. Generally, we replace a log with a "re-facing" or half log if there is at least 50% solid wood left in the section of the log needing repair. Our replacement logs are dried Cedar because this type of wood has natural rot-resistant properties.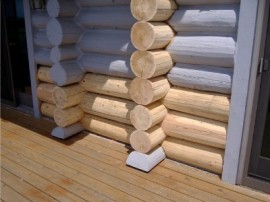 Replacing half of the log is a cost savings over replacing an entire log in terms of materials. If the log is more than 50% rotted, we recommend replacing the whole log. When replacing a half log, new replacement logs are attached to the existing building with galvanized screws.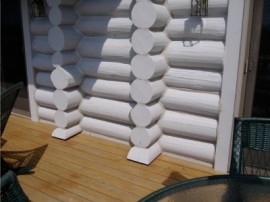 Any spaces between the new and the old logs are filled with expanding foam and/or backer rod and chinked or caulked. The heads of the screws are sunk to a depth of an inch below the log surface and the hole is filled with caulk matching the color of the log.
Check back again as we will continue to post information related to log home restoration.
Here are some relevant links you may find useful:
Our replacement logs are dried Cedar
Replacing whole logs
Replacing vertical logs
Why do logs rot?