Ken and Kay Uecker were great folks to work with. Their quaint log home is located on the Rock River, just outside Janesville, Wisconsin. They were a gracious couple and loved to tell stories about their log home and what it meant to them.
This job called for replacing rotten logs and crown log ends. The finish on the logs also needed sandblasting, and the logs needed to be stained and re-chinked. It's amazing to see the transformation when a log home gets this type of "facelift".  A full service restoration like this brings back the natural beauty of the home.
Edmunds & Company takes special pride in saving an old family place like this one from the elements, making it fit for the next generation to enjoy.
The Solution
This home needed the full range of services that Edmunds & Company offers:
It took about three weeks to complete this project, and in the end,the home had a new lease on life.
This is what Ken and Kay had to say once their project was complete: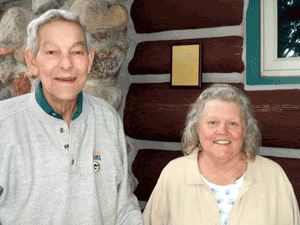 Quality is an understatement with the Edmunds group and their high-quality restoration work. We had a plaque made stating "This home restored with superior craftsmanship by Barb, Blaise, Daniel, Jared, Jed, Jesse and Matt". We would also like to add that those named above are the most wonderful people personally. Our very highest compliments to Edmunds & Company.Ken & Kay Uecker
Trust your log home repair to a company that employs highly skilled craftspeople. Contact Edmunds & Company or call us at 715-373-5744.