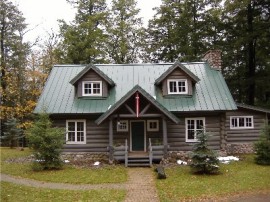 If you're a new log home owner, or you're considering purchasing or building a log home, it's a good idea to learn ahead of time about typical log home restoration projects. Owning a log home or cabin is a different experience than owning other types of homes. Log homes need different maintenance and restoration.
Typical Log Home Restoration Projects
Just like any other home, your log home needs care and maintenance. You'll need to clean the gutters to make sure they're not clogged, and check for roof leaks. In addition to these tasks, the following lists some typical restoration projects your home might need over time:
As you can see, some of these log home restoration projects are similar to what any homeowner has to do. Most homeowners paint their homes and prevent or treat for termites, for example. But log home owners must also think about other issues. If you're a new log home owner, consider these tasks when choosing your log home, and download our free log home maintenance checklist or check out our information on what to look for when purchasing a log home.
Edmunds & Company's crew and staff know log homes because we love log homes. We've been working on nothing but log homes and buildings since the 1970s. Our crews have the knowledge, skills, experience and specialized equipment to restore and maintain your log home or building. Call us at 715-373-5744 for more information.