Testimonials
See what our customers have had to say about our work on their cherished log homes
"Matt, I'm a very particular person when it comes to having a job done and done well. With that said, Ryan and Nick did a fabulous job. I could not be happier with the outcome. Both those guys have great personalities and serious job skills. I want to thank you and your team for doing a wonderful job, it was worth the wait. If I ever need anything else, you guys will definitely be my go to source for log home repairs."

Steve A, Duluth, MN (May 2021)
"Thank you for the work you did to restore our classic Northwoods log home."

Tom and Linda, Clam Lake, MN (April 2021)
"We appreciate all of the hard work and skill that Nick and Ryan demonstrated throughout this process they were great to work with we love the results. Thanks again"

Bob and Nancy, Twig, MN (March 2021)
"We were very pleased with the job your crew did. Also I can't praise your crew enough – they were awesome. Extremely good at what they do – polite – professional. Great job Edmunds & Company!"

G. Mueller, Spooner, WI (2020)
"We are very pleased with the outcome of the work Jafra did! She is a delight to work with and did a great job. She was willing to hear any input from us and was totally invested in pleasing us an Edmunds customer. Now we can enjoy the cabin this summer without the task of us doing the chinking.

P. Morris, Cumberland, WI (2019)
Photos from the Morris project in Cumberland:
"Our nearly 30 year old log home looks better than it did when it was new, thanks to the Edmunds crews. Meticulous workmanship, hard working and respectful people, this is a top notch company. We are very glad we worked with them."

C. Goehring, Inver Grove Heights, MN (2018)
"We can't thank you enough for repairing our cabin and helping us keep it healthy and in good shape for hopefully another 100 years!"

Bartoloni, Nevis, MN (2018)
"Thank you Edmunds and Company for replacing our logs that were rotten. Highly recommend Matt and his crew for any log repair or maintenance. They went above and beyond expectations and are extremely friendly and knowledgeable. So happy we went with there services! Couldn't be more pleased."

J. Schneeberg-Burgard, Sheboygan Falls, WI (2018)
"Thanks for the incredible log restoration job. Your crew is amazing. They represent your company well with professionalism by doing quality craftsmanship at all levels. Cabin's good for another 100 years."

S. Cernohous, Stone Lake, WI (2018)
"Very pleased with the work and crew."

B. Larson, Shorewood, MN (2018)
"Thanks for such great work and a super crew. The house looks new and our worries reduced. We appreciate it."

C. DeMatteo, Chetek, WI (2018)
'We are very pleased with the log restoration on our old cabin. It looks wonderful and thank you for the professional job.'

F. Berube, Brule, WI (2018)
The log exteriors had mildew and were turning black, the deck railings were rotting and several exterior logs needed to be replaced due to rot. The cabin looks like new once again (we are the original owners). Matt and his work crews were professional, courteous, efficient and a pleasure to work with. Throughout it was a very positive experience working with Edmunds & Co. and the end result totally met our expectations! Additionally, Matt and his staff were excellent at communicating with us to keep us fully informed of the work progress. We highly recommend Edmunds & Company to anyone needing log restoration work.'

J. Banker, Lake Hayward, WI (2017)
'I just wanted to comment on how well the crew performed on our recent project. They were friendly, courteous, conscientious, and efficient. They did everything they said they would, while taking the time to answer any questions or concerns we had as the project progressed. They treated the cabin as if it were their own, and transformed our log home back to a beautiful finish.'

P. Lammert, Grantsburg, WI (2017)
'My husband's and my dream was to retire and purchase a log home. We found our log home in northwest Wisconsin and brought Matt in to do a pre-purchase inspection (which I highly recommend). The inspection opened the window for us to see what was ahead for us as far as home condition and the cost to bring the home up to date. After purchasing our home, Matt stayed with us from start to finish, which was blasting, crown and log replacement and staining. Matt and his crew made what could have been a bad experience a very good one by consulting with us through each phase of the project and educating us on the future care of our log home. We highly recommend them. Their work is top quality. Thanks Matt and crew'

J. Kuh, Stone Lake, WI (2016)
'Everything looks fine. As expected, Mark and Barb were good representatives for your company; competent, pleasant, and good to deal with.'

L. Johnson, Fridley MN (2016)
'Your crew was wonderful. I would recommend your company to anyone.'

D. Bergeron, Luck (2016)
'We stopped in at the cabin and saw your very capable work crew finishing up on the cabin project. It was nice to meet them and witness their care, skills, and their satisfaction with their employment at your company. We both have an interest in supporting companies who have happy employees; it reaffirms our decision in choosing your company.'

K & R Abraham, Webster, WI (2016)
'Thank you so much for such a beautiful job. We really enjoyed working with you and your crew.'

T. Wagner, Ely, MN (2016)
'Your crew was exceptional in every way. They were prompt, courteous, professional and hard working with attention to details. The whole process was explained thoroughly to us first, then they set up for work like a well-rehearsed team. We appreciate the excellent work you have done for us and will definitely recommend you to others.'

Dave S., Bayfield, WI (2016)
'In 1996, my wife and I purchased a dilapidated log cabin on Lake Nancy in NW Wisconsin. In 1997, Peter Edmunds, (Matt's father) and his crew, spent weeks doing a complete restoration to that cabin, much to our complete satisfaction. Rotted logs were replaced, new logs added, structural improvements, and chinking was done. We were very pleased with the results.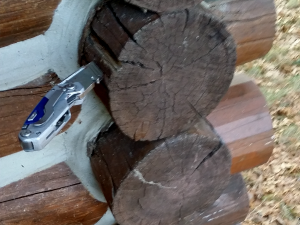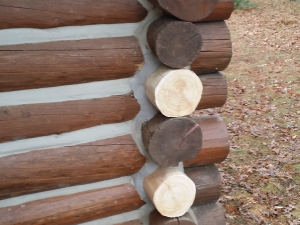 Fast forward almost 20 years… Weather and time caused some minor issues with the exterior of our cabin and we found out that Matt Edmunds had continued in his dad's footsteps. Edmunds and Company was still restoring logs homes. As per our request, Matt came out to our cabin, surveyed the areas of concern and gave us an estimate on the repairs needed.
As promised, a crew arrived and completed the work in a timely and professional manner. They were friendly, knowledgable, and explained any procedures they performed and answered any questions we asked them. The logs repaired (and replaced) look as if they were the original logs put there over one hundred years ago!Our cabin, ounce again, looks great. We heartily recommend Edmunds and Company to anyone needing log restoration work done to their cabin or home'
D. Butt, Mining, WI(2015)
'Your crew did an awesome job! Thank you again for an outstanding job. We'll be sure to pass your name along as a reference for quality work.'

F&D Shepston, Hebron, IL (2015)
'I just want to thank all the crews that worked in Trego. Love my new color! Everyone was very nice and knowledgable. It was a great experience.' M&J Schoen,Trego, WI (2014)
'We love the results and were most impressed with your crew!'

N. Forseth, Augusta, WI (2014)
'Thank you all for the beautiful, artisanal work'

L. Noble, Pine River, MN (2015)
'I have had a very busy summer but wanted to let you all know how much my family and I appreciated the exceptional restoration work your staff did earlier this year on our log home. This was the third time we have called upon your staff to do log restoration or refinishing on our house. Edmunds staff are true craftsmen. The work and attention to detail from log delivery through final clean-up is meticulous. Staff members are pleasant and work through to completion of the job even in some of the worst heat and humidity. I will count on Edmunds & Co. to fill all our Log home restoration needs forever and recommend their services to every log home owner who wants the best possible log home restoration done by super skilled craftsmen!'

K. Curtin, Hampshire, IL (2015)
'Just wanted to drop by & tell all of you – thank you so much for everything you did. In addition to what I wrote the first day, I need to add that Jesse & the whole crew were professional, skilled, meticulous, conscientious, respectful, personable & as we travelled through our house adventure – they all felt like they were our friends. Will we forget any of you – Jesse, Barb, Jed, Ryan, Ira, Dan & Jafra? NO. Matt you have FANTASTIC PEOPLE!!!!

Would I recommend you? Definitely!! We've already been singing your accolades to all who will listen. One of our best days was when Tom located Matt Edmunds & Company and there is NO BETTER CREW than JESSE's!!

Your company always had our wishes in mind – we are impressed. All through the process, everyone has been willing to answer any/all questions (even at the end of the hottest & most humid days when they were involved with cleanup.) Thanks for loaning them to us for our house restoration. When I returned last night at 7PM before I even went inside, I walked all around the house admiring the final "look".

We hope that everyone made it safely back home & had time to enjoy with their families until "they go on loan to someone else's project". The only sign of all the hard work was a slight indentation in the yard from a log & a beautiful home. Thank you to everyone!'

T & D Spurlin, Poplar Grove, IL (2015)
'You guys did a great job. I already referred you to a good friend with a log cabin in Mason, WI. '

K. McShane, St Paul, MN (2015)
I just want to thank all the crews that worked in Trego. Love my new color! Everyone was very nice and knowledgable. It was a great experience.'

M&J Schoen,Trego, WI (2014)
'The crew were very nice people and did a very nice job. I am off today to find stain so I can get that done. I am so glad that I found you and it was good luck that you were in Duluth! Thank you so much. I will recommend you as well to others.'

M. Johnson, Duluth, MN (2014)
'The house looks great! Thanks very much.'

P. Walters, Eau Claire, WI (2014)
I chose Edmunds and company because they came very highly recommended, but still, I always have a bit of trepidation when someone new shows up. Sometimes, it's the little things that make the difference.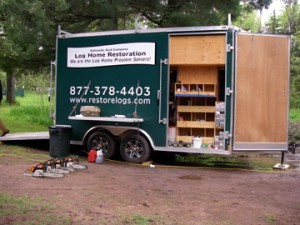 This was the scene that eased my mind. Although it was a bit unnerving seeing four chain saws aimed at my beloved log cabin, I was so impressed that the crew lined them up so neatly. Since they automatically put that much care and artistry into that task, I knew my house was safe in their hands.
When someone stops by, we stand in the driveway and I ask, 'Can you tell which logs were repaired or replaced?' The person looks at the wall, looks at me, looks back at the wall, stares, and says, 'No.' And I have a hard time not jumping up and down as I say, 'Isn't that awesome? They did nine logs!
Skilled, efficient, punctual, courteous, tidy, helpful – I am extremely pleased. Thank you all.
B. Martin, Poplar, WI (2014)
Thanks again for a nice job and thanks for getting it done on time.N. Gioe, Solon Springs, WI (2014)
Really enjoyed meeting all of you. Thanks for all your hard work. Everything looks great!K. Ferkul, Deerwood, MN (2014)
The work looks good and we liked your crew. They were fun to have around! We'll miss them!
T. Gerdes, Sartell, MN (2014)
Matt and company: Thank you very much for a real professional job. Your employees have a great work ethic and the house looks great. Blaise and Dave were wonderful at explaining things. We will be in touch if we find anything else in the future.
J. Reid, Almond, WI (2013)
We are very pleased with the work done. They are very nice people, very efficient and professional and they did a great job!
P&H Hafner, Wayzata, MN (2013)
Very happy with the job and the crew was great.
J. Walsh, Rush City, MN (2013)
Thanks for a really beautiful and fast job replacing our post and crown end. As always, we are extremely pleased with your work. Jed and Blaise were wonderful and very accommodating.
D&J Allert, Knife River, MN – return customer (2013)
Thank you so much for all the hard work you and your crew performed on our home. Jesse, Blaise, Jed, Chris, Mike and Barb were all really wonderful to have around. They are a terrific bunch!
P&K Lammert, Grantsburg, WI (2012)
Thank you Edmunds and Company team! My little cabin looks AWESOME. I am so happy with the work everyone did during those hot, hot days.
L. Nagle, Mazomanie, WI (2012)
Thanks for everything – truly a professional business. Excellent customer service.
J. Staniszewski, Bruce, WI (2012)
You have a great crew. They do excellent work and are enjoyable to work with. Thank you.
N. Anderson, Rochester, MN (2012)
Thank you for the fantastic workmanship on my cabin. You are true craftsmen.
J. Sood, Danbury, WI (2012)
We are grateful that the heart of our family is saved. Thank you again for your amazing craftsmanship, attention to detail and beautiful results.
S. Williams, Duluth, MN (2012)
We realized we were in great hands from our first meeting with Matt Edmunds prior to purchasing our 100+ year old log lodge in Northwest Wisconsin. Matt's expertise was apparent as he surveyed the building and gave us a realistic estimate on the extent of the structural restoration that would be required and the necessary time frame to complete the job. At the start of the next summer, Matt and his highly talented team, led by Jesse, began the extensive repair to over 25% of the building. Most of the problems in the structure arose from years of water damage, which had never been addressed properly. The Edmunds crew approached these problem areas from engineering, architectural and aesthetic perspectives and replaced whole sections of the original building, while staying true to the original historic character.

For over five months, the talented men and women of the Edmunds crew came to the project every day with amazing energy, enthusiasm and skill. They made even the most difficult obstacle seem like just another interesting challenge. The restoration is now complete, and we cannot believe the transformation. In addition to extensive log replacement and repair, the Edmunds team also sand blasted and stained all of the exterior logs and applied fresh chinking. Our historic log lodge, which had previously been dull and weathered, is now restored to its original splendor. We are thrilled with Matt and his team and give them our highest endorsement.
J&N Pundyk, Mikana, WI
Join the ranks of our happy customers… Call us today with your log home problem at 715-373-5744 or contact us.