Log Homes and Problems with Linseed Oil Finish
Log homes can experience problems with a linseed oil finish. Keeping a good stain or finish on your log home is very important. In Minnesota and Wisconsin, this is even more important since there is such a broad range of weather conditions impacting the logs year after year.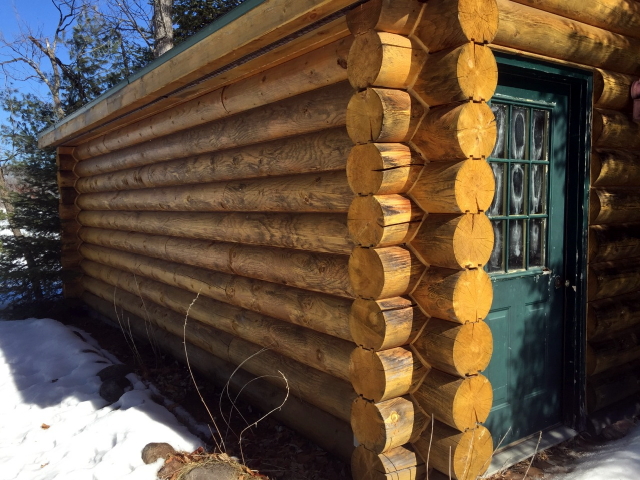 Its also important to choose the right finish for your log home. Edmunds & Company specializes in restoring log homes and cabins and consequently, we see homes with many different types of coatings. One of the most problematic finishes that we see every year is linseed oil. Linseed oil finishes are some of the worst finishes we see for these two reasons:
1. Linseed oil is a natural oil and for this reason, it can deteriorate and look bad. When exposed to UV light, the oil turns logs black or sometimes adds just little specks of black, which makes the logs very ugly.
2. Linseed oil and the black color produced by the oil is super hard to get rid of because it is very sticky. The oil resists the current methods of finish removal, i.e. blasting and chemical strippers.
In our 40+ years of experience, the projects we have done that include removing linseed oil from logs goes down in the "annals" of our company as some of the most difficult and frustrating projects we have ever done.
Good, quality finishes are available. Log home finishes keep the logs sealed while still allowing them to breathe. There are a number of companies that make good finishes for log homes.
One way to determine the quality of a particular finish is to pay attention to reviews by other log home owners about the performance of the stain three to five years after application. This is a reasonable "test of time" for knowing if it is good or not.
Bottom line – Log homes and linseed oil don't mix!!
If you have a log home that has an oil-based finish on it and you have questions, give us a call at 715-373-5744. We'd be happy to help.